We power life.
This is Entergy's vision, and we are on a mission with our stakeholders to improve lives, build businesses, and create prosperity.
We strive to communicate clearly with our stakeholders. That is how we build trust and support for our business objectives and create sustainable value for the long term.
Our stakeholders

Why it matters
Stakeholders are central to everything we do at Entergy. After all, stakeholders are the groups, entities, and individuals who hold an investment or interest in how we operate. From the customers we serve directly by delivering the reliable power they need, to the communities in which we operate and everything in between, our stakeholders are important to us.
Stakeholder feedback and engagement helps us create smart, forward-thinking plans that encourage and promote sustainable practices throughout our organization. By engaging with our stakeholders and gathering diverse points of view, we strive to build strong, trusted connections that result in solutions with broad support.
Our approach
Maintaining an open and honest two-way dialogue with our stakeholders at the levels closest to the communities we serve is foundational to our approach.
With guidance from Entergy's shared values and principles, the president and CEO of each of our operating companies is responsible for stakeholder engagement in their communities. Due to the critical connection between successful stakeholder engagement and sustainability, Entergy's board and members of the office of the chief executive are regularly briefed on stakeholder engagement activities. In addition to regulatory mandates that require a robust stakeholder engagement process, Entergy knows that active and deliberate engagement generates the goodwill and constituent support necessary to ensure long-term viability of our business. By focusing the structure of stakeholder engagement at the community level, we prioritize a response that is appropriate to those most immediately impacted by business decisions.
This structure for an exchange of ideas works because when we empower those closest to the communities in which we operate, exchanges begin with a fundamental understanding of the importance of the community.
Our stakeholder engagement commitment
Entergy is committed to establishing and maintaining an open and transparent dialogue with all of our stakeholders.
Our promise to our stakeholders:
We provide timely and accurate information about our business.
We consider their needs and concerns when making decisions.
We proactively seek out their input and feedback. We listen and are responsive in balancing the needs of all our stakeholders.
We respect their diverse opinions and perspectives.    
When issues of conflict arise, we are committed to exploring avenues of common ground and resolution. In the rare instances when differences cannot be resolved, we will always maintain and demonstrate courteous respect for every viewpoint.
These commitments and the stakeholder engagement process are embedded throughout our business practices.
Entergy's shared commitment to our stakeholders is rooted in the same values as everything we do as a company.
Who we work with
Entergy partners with nonprofit organizations to accomplish and amplify our business objectives and in many cases, drive thought leadership. Partnering for solutions aligns with Goal #17 of the United Nations Sustainable Development Goals – Partnerships for the Goals. Below are examples of Entergy's partner organizations.
Sustainability and environmental leadership
We truly believe that each of us has a role to play in protecting the air we breathe and conserving our homes for future generations. We're in this together. That's why, in addition to being an industry leader in using clean energy resources, we've partnered with environmental organizations in accomplishing our shared goal for a cleaner, better tomorrow.
A public tour of Entergy New Orleans solar facility in New Orleans East.
Social community
Our stakeholders include some of the most vulnerable in our society. The welfare of families is crucial to building vibrant communities.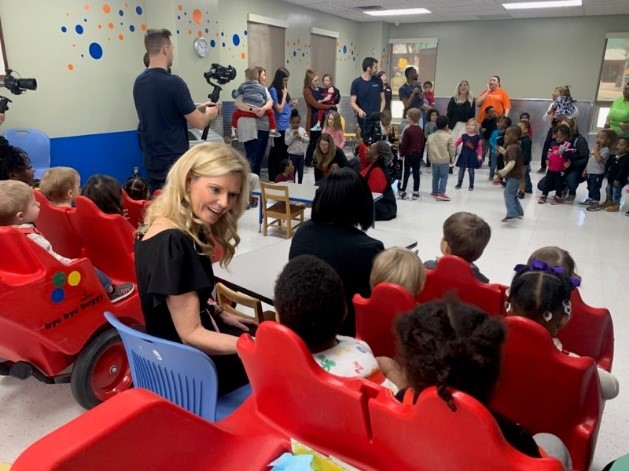 Entergy Arkansas president and CEO Laura Landreaux visits Easterseals Arkansas campus.
Policy
Demand for energy is growing and how it's delivered is quickly changing. We never want to fall behind in designing innovative approaches to meeting consumers' current and future energy needs. Partnerships with think tanks and policy institutes facilitate collaboration with groups that have different areas of expertise and help us design approaches that work for all stakeholders.
Industry
Energy touches so much of our economy and daily life. It's important that energy companies and organizations learn from each other's successes and failures and help one another in times of need.
Economic development
Entergy has earned a solid reputation for working closely with economic development leaders in our four-state region to achieve economic goals for their communities. For more than half a century, our operating companies have provided leadership and financial support for our allies and their economic and community development programs. These relationships are a kickstart for success for your company.
Local communities
We are part of the fabric of so many communities, and each one has different needs and challenges. Entergy partners with hundreds of local and regional organizations to make our towns vibrant and attractive places for new businesses and families. 
Listening to our stakeholders
Acting with integrity means listening to our stakeholders and respecting the rights of individuals. Our human rights statement reflects the values that we live by, and that are reflected across our operations.
We encourage honest and open communication. Entergy has established multiple channels to make providing feedback convenient and simple.
Actively fostering a two-way dialogue requires offering multiple ways to provide feedback. We use many communications formats so that our stakeholders can share their thoughts with us, whenever and wherever it works for them.